News from the West Bank
1. Palestinian villagers protest against Road 443, Israel prevents them from using it
Residents of a number of villages in the Ramallah area organized a protest, joined by a number of International and Israeli peace activists, at Highway 443 on Friday after the noon prayer.
Protestors carried anti-racism signs and Palestinian flags and demanded that the Israeli authorities allow them to use this road that passes through the villagers' land.
Troops installed barbed wire in an attempt to prevent the protestors from reaching the highway. However, the villagers insisted and managed to reach the road. Troops fired several rounds of rubber-coated steel bullets and tear gas at the protestors, but no injuries were reported.
For seven years in a row, Israel prohibits Palestinians from using this 200-mile road, which is built on the land of Palestinian villages, and allows only Jewish settlers to use it.
2. Six wounded, five detained in the Bil'in Anti-Wall protest
Residents of the village of Bil'in near the West Bank city of Ramallah organized their weekly Anti-Wall nonviolent protest this Friday and were joined by a number of international and Israeli peace activists.
Protestors marched through the village carrying banners demanding the dismantling of the wall and calling for national unity. Israeli troops intercepted the protestors and prevented them from reaching the construction site of the wall by installing additional layers of barbed wire.
As the protestors approached the wire, troops showered them with tear gas and rubber-coated steel bullets. Dozens were treated for gas inhalation, while five were wounded by the rubber bullets. The five were identified as Nasser, Adeeb, Rateb and Ayed Abu Rahme from Bil'in and Yanni from Israel . Adeeb Abu Rahme was struck in the head by a police baton, resulting in a wound that required stitches. Five, including two American protestors, two Palestinians and an Israeli protestor, were detained by the soldiers. Another International activist who was not detained was struck in the temple by a rubber bullet, which left him disoriented.
Meanwhile, troops assaulted and arrested an Israeli journalist identified as David. They released him and all the other detainees an hour later.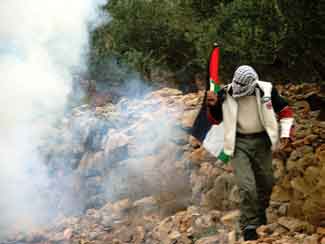 3. Israeli army attacks a peaceful demonstration in a Bethlehem village
Dozens of residents of al Me'sarah village near the southern West Bank city of Bethlehem were joined by a group of Israeli and International peace activists on Friday noon to protest against the confiscation of their land. The Israeli army installed road blocks to prevent the peace activists from reaching the village.
The protestors marched to the lands that will be annexed for the expansion of a nearby settlement and the construction of the Separation Wall. After the Friday prayer, some protestors delivered speeches in Arabic and English stressing the need to resist the land confiscation labeling it as a "land theft."
The Israeli troops who were at the scene attacked the demonstrators and prevented them from reaching the settlement road known as Road 60. One resident, identified as Bassam Ibrahim (22 years), suffered light injuries.
For more information, contact the Bil'in Friends of Freedom and Justice Society:
Email: majdarmajdar@yahoo.com
Tel: 972 547 847 942
http://www.ffj-bilin.org
ffj.bilin@yahoo.com