Three Texts by Vimala Thakar
On pourrait dire de Vimala Thakar qu'elle s'est vouée, presque depuis sa naissance, à une quête spirituelle qu'elle a menée inlassablement, au mépris de toute ambition mondaine, avec une vigueur et une résolution singulières qui forcent le respect et l'admiration.
Dès l'âge de cinq ans, « le concept traditionnel d'un Dieu personnel » était devenu pour elle « une réalité vivante » et, vers l'âge de douze ans, elle avait déjà lu les biographies de presque tous les saints éminents de l'Inde.
Elle a fait l'expérience des conditions sociales les plus dissemblables. Petite-fille d'un raja, et vivant d'abord dans le luxe d'un palais, elle devait connaître ensuite la misère et la faim, lorsque ses parents, qui avaient pris le parti de Gandhi, furent emprisonnés.
À l'université de Nagpur, qui lui a délivré une licence de philosophie, elle a suivi des cours de logique, d'éthique, de psychologie et de métaphysique. Ce qui lui a permis d'ajouter à sa connaissance des enseignements spirituels de l'Inde celle de la pensée des philosophes occidentaux : Platon, Aristote, Kant, Hegel et d'autres. Elle a en outre étudié le soufisme, le bouddhisme et le christianisme.
De brefs séjours aux USA et en Angleterre la firent « prendre conscience de l'impact du progrès scientifique et technique sur l'esprit humain. »
Quand Vinoba lança le mouvement Bhoodan, elle y apporta sa coopération enthousiaste, une coopération qui devait durer huit ans et lui donner l'occasion de s'initier aux différents systèmes de pensée politique. De ce travail, elle dira : « Il me fit visiter pratiquement tous les États de l'Inde. Je traversai le pays de haut en bas, parlant dans les meetings, organisant des camps d'entraînement pour les travailleurs, collectant des terres et les distribuant à des laboureurs qui n'en possédaient pas. C'était toute une expérience que de faire face à l'Inde vivante. »
La phase de sa recherche spirituelle se situant entre les années 1957 et 1961 a été profondément marquée par sa rencontre avec Krishnamurti.
Venant après d'autres qui avaient joué un rôle important dans l'histoire de sa vie intérieure, cette rencontre, qui eut de multiples aspects, fut à l'origine d'une transformation décisive de son être spirituel et d'une réorientation radicale de ses activités.
Citant la lettre de nouvelles N° 5 de la Vimala Thakar Foundation, publiée en 1975, nous dirons que, depuis 1962, Vimala « a beaucoup voyagé, s'adressant dans toutes les parties du monde à des professeurs et étudiants d'universités, ainsi qu'à des groupes restreints ou étendus de profanes. Elle parle de l'urgente nécessité de parvenir à la connaissance et au dépassement de soi par une approche totale, non fragmentaire, de la conscience. »
Vimala frappe par son extraordinaire vitalité, son indomptable énergie, dont témoigne au surplus la vie intensément active, et responsable, qui fut sienne face au public indien, durant de si nombreuses années. Cette force de caractère stupéfiante, cette détermination intrépide, ne l'empêchent pas d'être une interlocutrice ouverte et charmante, une créature accueillante, qui a vu et affronté, dans son pays natal, tant de pauvreté que rien ne peut la rebuter et qu'elle peut pénétrer, en les éclairant de la lumière de son sourire, dans les demeures les plus humbles, les plus misérables. On ne peut que s'incliner devant cette vie si courageuse et si méritoire d'un être d'une sensibilité, d'une noblesse et d'une distinction raffinées.
~ René Fouéré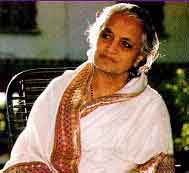 Meditation
If I am aware of the nature of my reactions, and movement of my reactions, naturally that awareness will result in freedom from the reaction.
I cannot stop the reaction, because the reactions have been rooted in the subconscious, in the unconscious. I cannot prevent, I cannot renounce, I cannot check them.
But if I am aware, simultaneously of the objective challenge, the subjective reactions and the causes of those reactions, then it results in freedom.
Then the momentum of reaction will not carry me over with it, but I will be ahead of the reactions; I will not be a victim of my reaction, but I will see them as I see the objective challenge.
That for me is meditation. All-inclusive attention while moving in life. Meditation does not involve any mental activity at all.
~ Silence in Action
Sensitivity and Pain
To live requires energy and fearlessness; but we are brought up in a pleasure-hunting human race, and pain is something to be afraid of, to be driven away completely, to protect oneself from.
But it is the pain and pleasure—the duality—together that make the whole, the wholeness of life.
The more sensitive you are and the more you live from the depth of your being, the more vulnerable you are to life.
The more sensitive you are and the more capable of loving human beings, the more you will be hurt; there is more sorrow, there is more pain.
Psychological hurts, pain and sorrow accompany the sensitivity, intelligence and love. Love and sorrow go together.
So, if there is physical or psychological pain, you live with it—not out of despair, not out of self-pity, not out of any weakness. You live with it because it is part of life, it is an expression of life.
Silence and Emptiness
In the dimension of silence the movement of thought goes on without creating the illusion of a thinker.
The reception of the sensation and the interpretation of the objects surrounding you take place without the interpreter.
The movement of thought goes on without the thinker.
There is no centre to say: "I like this and I dislike that, I prefer this and I have a hatred for that."
So there is involuntary cerebral activity without the psychological recording or registering.
The movement of thought, the movement of knowledge goes on in the body like the movement of breath, of blood.
Silence implies the existence of the total human past within you, inside you. It also implies the movement of knowledge, thought, etc., without the knower, without the thinker.
The absence of the knower, the thinker, the experiencer, the centre—is the essential part of what we call silence.
And because there is no centre, no knower, no experiencer, you call it emptiness.
*** *** ***